One of the coolest things about being a kid in New York City is having a host of awesome playgrounds right in your backyard. Whether they've been created by famous designers or inspired by a nearby museum exhibit, many of our city's playgrounds boast more than your average slides and swings. Here are ten nyc playgrounds to check out before the summer ends!
---
There are lots of of hidden gems and playgrounds within Central Park, but our favorite is Ancient Playground. Located right next to the Metropolitan Museum of Art, this popular city playground was inspired by the museum's collection of Egyptian Art. With climbable towering pyramids, an obelisk, tunnels and wooden forts, it's easy to spend the afternoon playing here. There are also user-activated water features, a cascading mini waterfall, sand pit, and multiple slides to tackle. For the little ones, there is a small sprinkler area as well.
Location: East Side of Central Park; enter by East 85th Street
---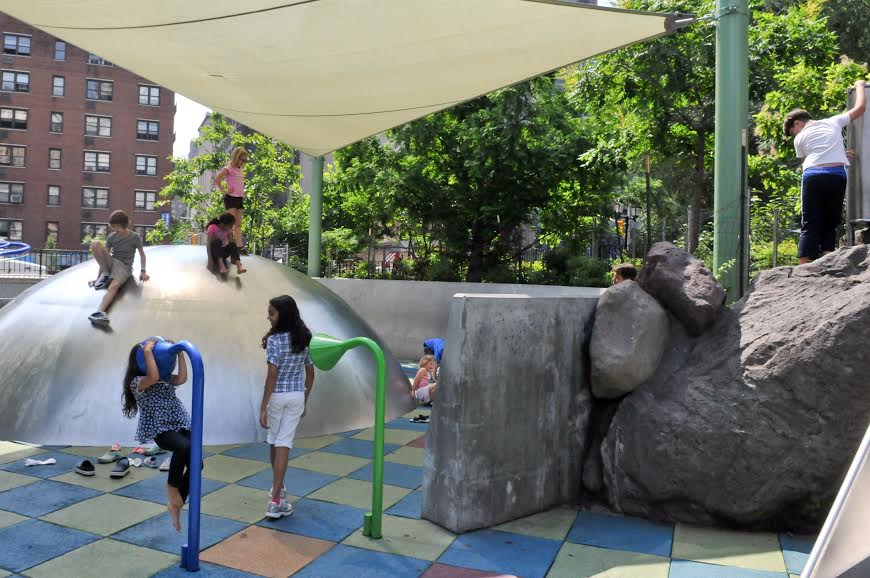 Kids don't officially receive their "I'm a New Yorker" card until they've played at Union Square Playground! Located in the center of the city in one of the most eccentric and bustling places, this is truly the quintessential New York City playground. The most notable structure here is the metal dome that piques kids' interest to try and tackle like Mt. Everest. There's also a well-contained swing set, sand pit and climbing structure; it's an unspoken rule here to keep the gate closed and locked, so you don't have to worry about children sneaking away into the city streets. To really enjoy the sites and people-watching Union Square has to offer, visit the playground on one of the days the open-air greenmarket is open (Mondays, Wednesdays, Fridays and Saturdays). You'll be sure to head home with fresh treats!
Location: Between East 14th and East 17th Streets along Broadway, Union Square Park
---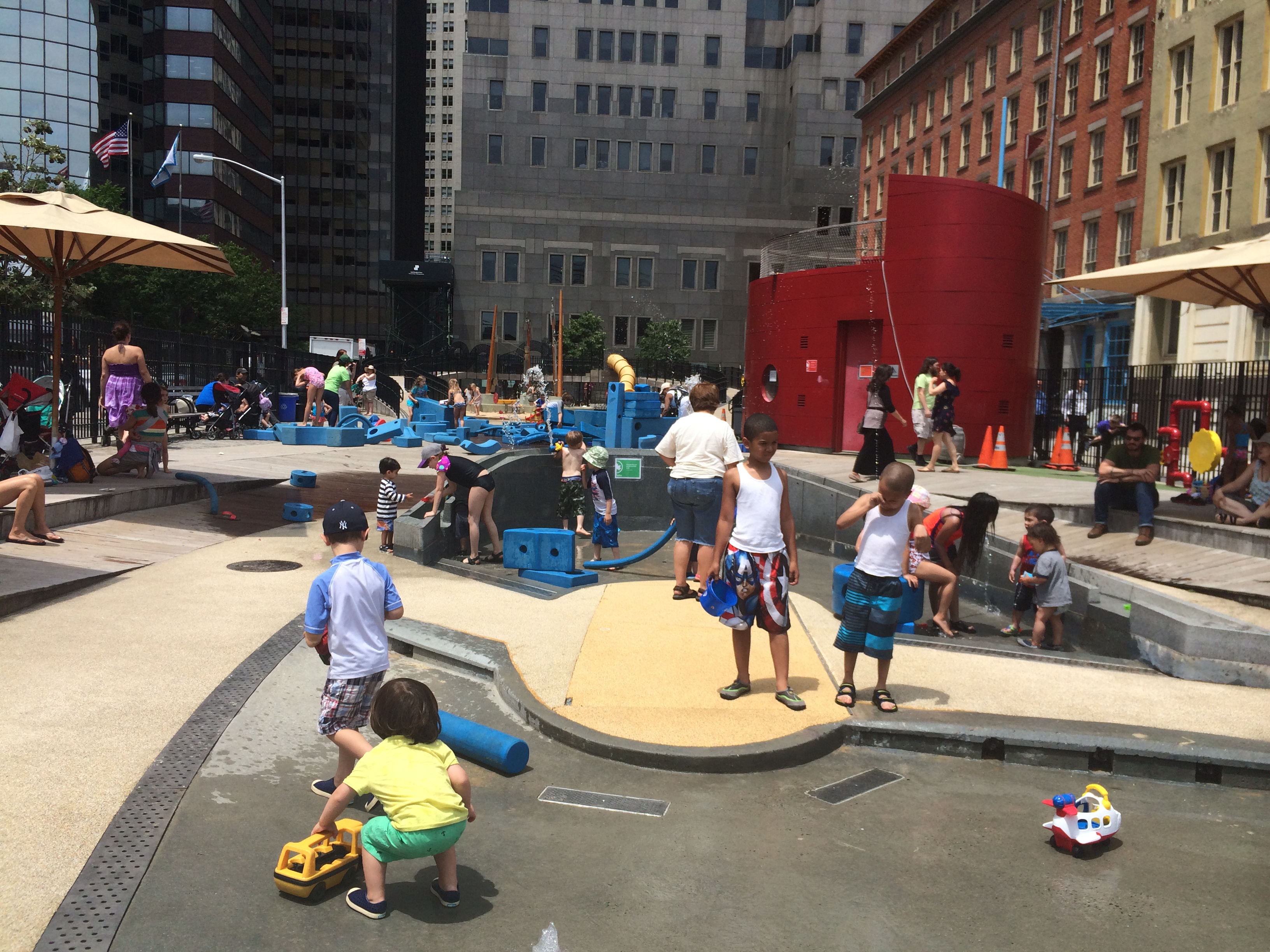 Unbeknownst to some city dwellers, there's an incredible playground one block away from the South Street Seaport. Here, kids can literally let their imagination run wild as they explore all of the amazing features famous architect (and dad!) David Rockwell has laid out for them. The entire playground is an interactive space that encourages kids to play, build and use their creativity. Little ones can build using huge, blue connecting foam blocks, run around in a water cove that includes sprinklers and hoses, or dig a hole to China in the sandpit. There's even a large wooden deck and canopies for parents to sit in while the kids go wild. Did we mention there are bathrooms on-site that are well-kept as well? A tip for Queens and Brooklyn parents: Take the water taxi over instead of the subway for a fun trip across the river! See routes here.
Location: Corner of John Street, South Street and Front Street in the Financial District
---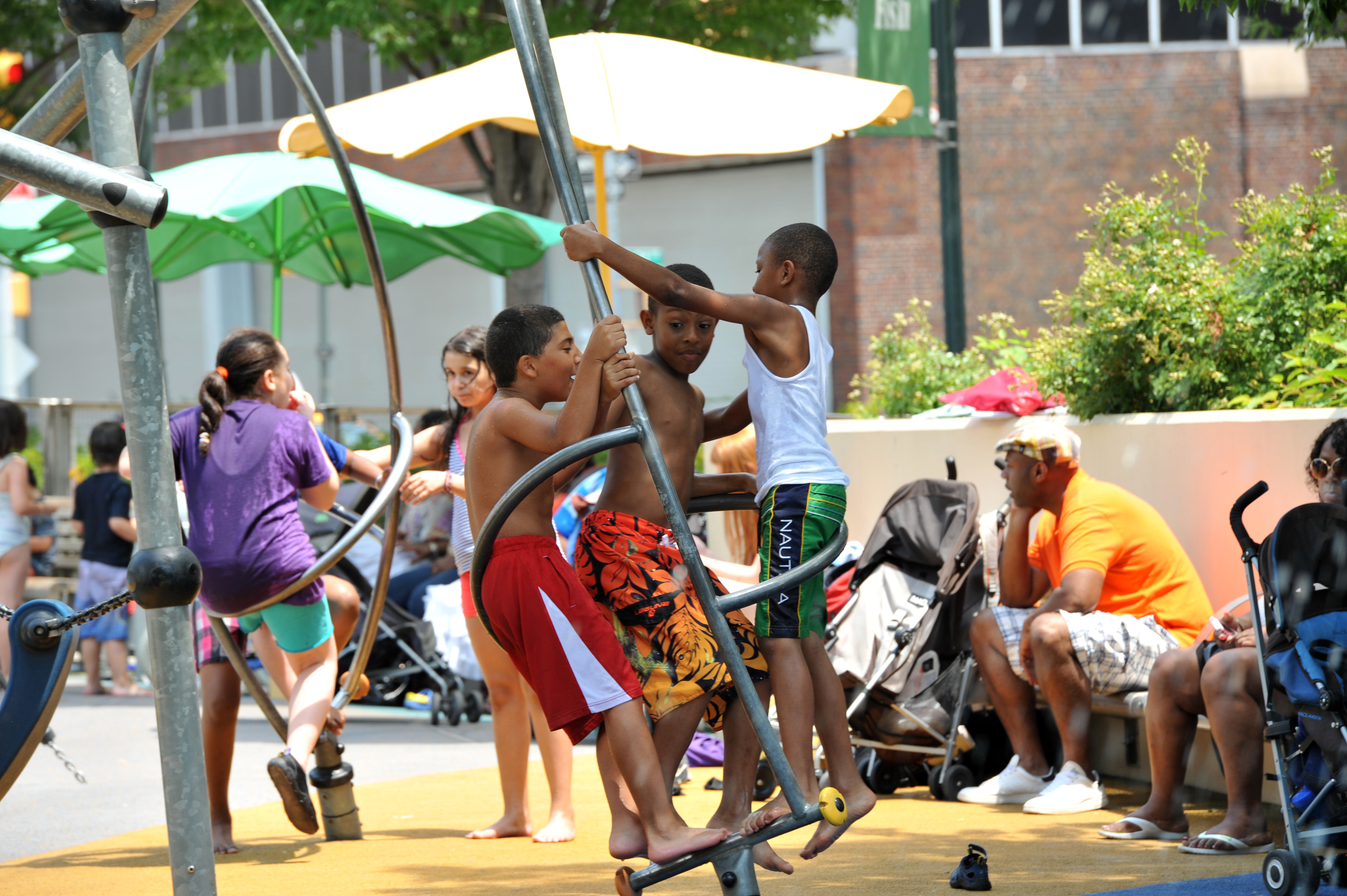 On the lower west side of Manhattan sits a beautifully designed playground that contains a ton of areas for little ones to explore. From dome-like climbing nets to space-age style structures, kids can jump from one activity to the next without running off too far. The get wet area includes spontaneous water fountains and activated buckets and canons. Hudson River Park also has mini-golf, a snack bar and beach volleyball courts, so bring a change of clothes in case the kids want to switch up activities. Keep in mind that the park is a bit of a trek from the subway—we recommend taking your bikes (or rent one!) on the Hudson River bike path that winds right past the playground.
Location: Between Harrison Street and North Moore Street on the West Side Highway
---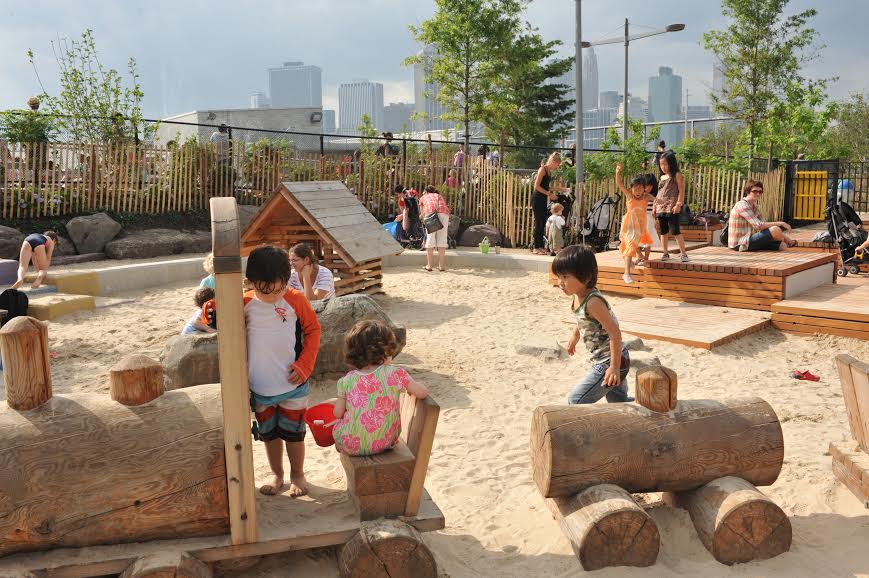 Located on a floating pier overlooking lower Manhattan, Pier 6 encompasses five different playgrounds, including a water park. Once abandoned space, this new outdoor recreational area boasts some of the best amenities of any New York park—you'll want to check out the water lab, spinning wheel, Sandbox Village, Slide Mountain and Swing Valley. There are also local-favorite vendors such as Fornino's Pizza and Ample Hills Creamery (located on neighboring Pier 5) to fulfill your after-play hunger pangs.
Location: Corner of Atlantic Avenue and Furman Street, Brooklyn Bridge Park, Brooklyn
---
Back in June, NYC Parks Department transformed the Laurelton playground into a car-themed adventure. This new setup includes streetlamp-shaped sprinklers, car-shaped climbing structures and even road markings leading you from play area to play area. It was also designed to be accessible for children of all ages and abilities, with ramps leading to each play structure. Located on the far end of Queens towards Long Island, this playground is worth stopping by to check out if you're in the area.
Location: Brookville Boulevard between 136th and 137 Streets, Laurelton, Queens.
---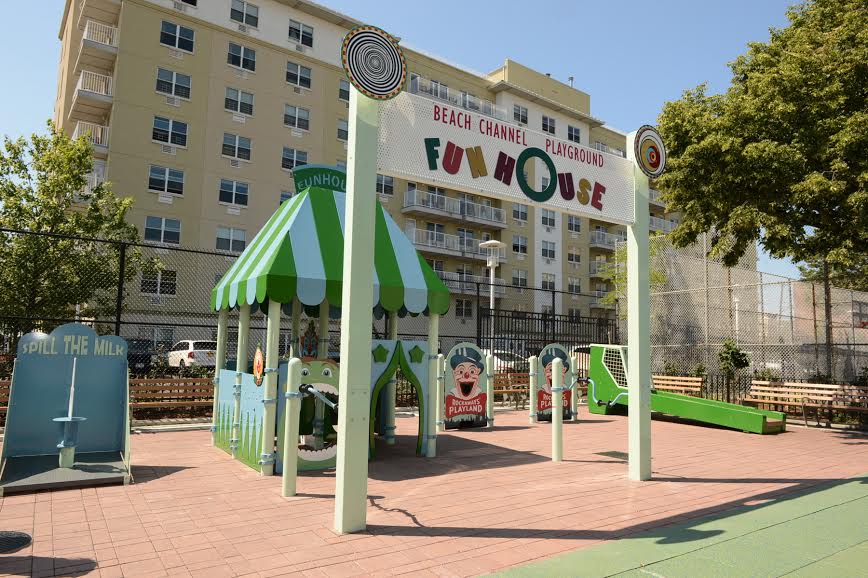 Here's a newbie: This carnival-themed playground just opened last month in Rockaway, Queens (it's a tribute to the Playland amusement park that once lived near by). Kids can play midway games like skee ball and milk bottle toss, go on a ferris-wheel climber, walk through a "fun-house" area, and even get wet in a carousel-themed spray shower. The park also acts as a barrier to future storms with permeable surface designed to absorb water and prevent runoff. It's a great place to unwind after a day at the beach.
Location: Beach 79th Street between Beach Channel Drive and Rockaway Beach Boulevard, Rockaway, Queens
---
RELATED: The Ultimate Guide to NYC Carousels
---
This is not your typical playground full of climbing structures and swings! Instead, Lakeside hosts a giant splash pad in the summer, and an ice rink in the winter. Right now, the huge rink is perfect for toddlers (rules state it's for children 12 and under only), as it is filled with only inches of water, and has dozens of jets shooting water everywhere. They also have large, clean bathrooms (with changing tables), so you can slip out of those wet clothes once you're done playing. After all that running and splashing, grab a bit to eat at nearby eatery Bluestone Cafe. Click here to read more about Lakeside.
Location: 95 Prospect Park West, Brooklyn
---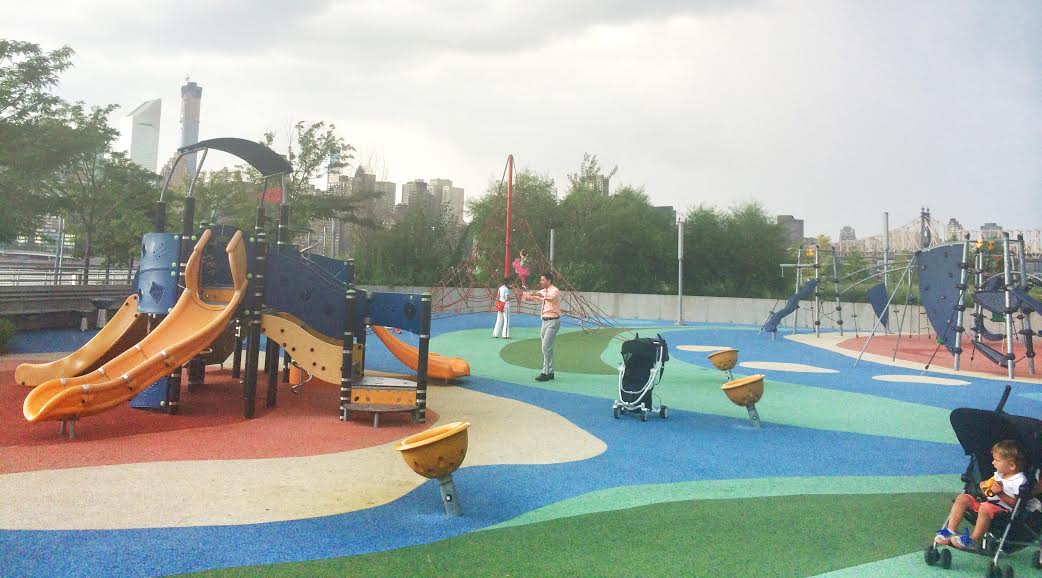 This tucked away playground on the waterfront of Long Island City is a secret gem. The playground has areas for kids of all ages, including spinning cups, a spider web, three unique climbing structures, and a splash park in the summer. The walls are lined with over-sized wood benches, which give you a 360 degree view of the entire area (a perfect way to keep an eye on the tots while sitting back). Another perk: The playground is surrounded by tons of waterfront walkways if you need a stroll to lull the little ones to sleep after a hard day at play. Before heading home, grab a reclining chair under the willow tree grove or on the boardwalk, and take in the views of Midtown.
Location: 4-09 47th Road, Long Island City, Queens
---
This outdoor recreation space sits on a 28-acre rooftop in Harlem (we just named it one of the city's 10 best rooftops to explore with kids). We're big fans of the spot's two typical playgrounds and sprinkler area, but also love all of its other amenities, including a carousel, two pools, skating rink (ice skating in the winter!), theater, multiple sports fields and courts, and even a restaurant. It's safe to say you can spend the entire day here, as the overall facility is a large playground in itself. And, it's just a quick subway ride away (take the 1 train ride to 137th Street).
Location: 679 Riverside Drive, Harlem
Did we leave one of your favorite New York City playgrounds off our list? Let us know below!
---
Originally published on MommyNearest.com
Photo credits: Hudson River Park Pier 25/courtesy of Hudson River Park and Brooklyn Bridge Park/Julienne Schaer