It's that time of year again! The holidays are quickly closing in on us as we see trees going up, ice skating rinks opening, and holiday shops popping up. Being a train addict, Maximo's obvious favorite exhibit (that he looks forward to every year!) is the Holiday Train Show at the New York Botanical Gardens. Not just for kids, this amazing display of NYC landmarks – made completely out of pants! – and trains a like is a must-see for everyone. This year they even added some cool new features AND 3,000 more square feet of trains and landmarks to view…
Tons of trains
More than 20 large-scale model trains and trolleys cover almost a quarter-mile of tracks at this year's exhibit. You'll see everything from steam engines to 1800s streetcars to high-speed passenger trains—we even spotted Thomas and friends on the track! The kids (and the kid in all of us) are sure to be enchanted by such a lively display. Watch as the trains cross the Brooklyn and Manhattan bridges, go through tunnels and under waterfalls. No detail was left untouched, so plan to be amazed over and over again—and don't forget the camera.
NYC landmarks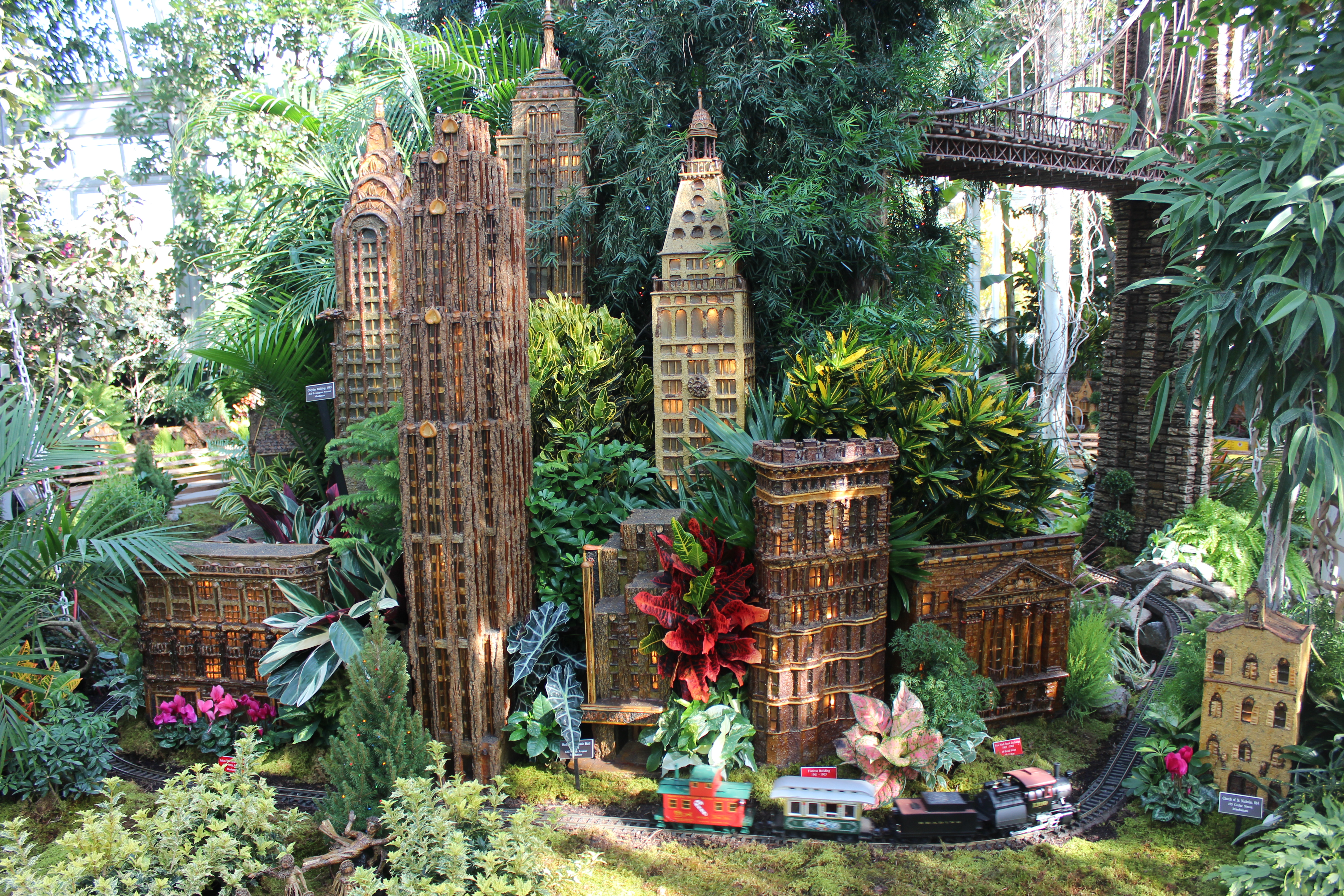 The entire exhibit is completely made out of plants (bark, roots, leaves and vines). Among the trains and twinkling lights you'll find tons of famous city spots, including Rockefeller Center, Penn Station, New York Public Library, Radio City Music Hall, Yankee Stadium, Empire State Building and the Statue of Liberty. There are even great historical landmarks to point out to the kids like the row-houses of Harlem, Lilly and Amy Goldman Stone Mill, Bartow Pell Mansion and the Guyon-Lake-Tysen House.
Artist's Studio: Musical Finale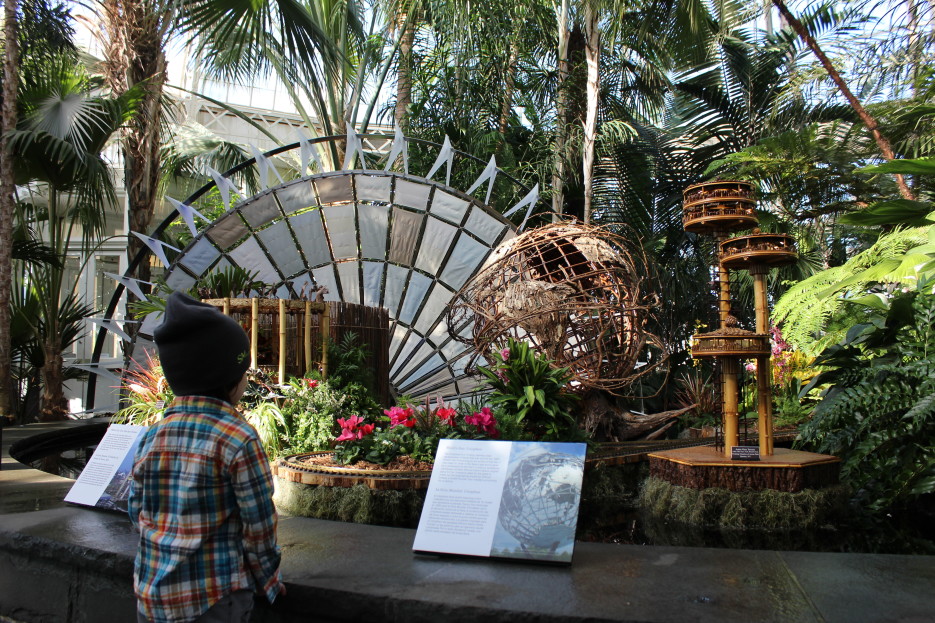 This year, the Artist's Studio (a special train exhibit that changes every year) showcase will feature a multi-sensory finale, including pieces from the 1964 New York World's Fair, with a light dance set to the music of The Nutcracker (if you have a chance to view at night, it's even better!). Keep an eye out for mini versions of the World's Fair-famed Unisphere, the Astro-View Towers, and even the Tent of Tomorrow, all completely made out of plants. The details are impeccable, so be sure to lean in for an up-close look at some of the spots that are still standing tall in Queens today.
New this year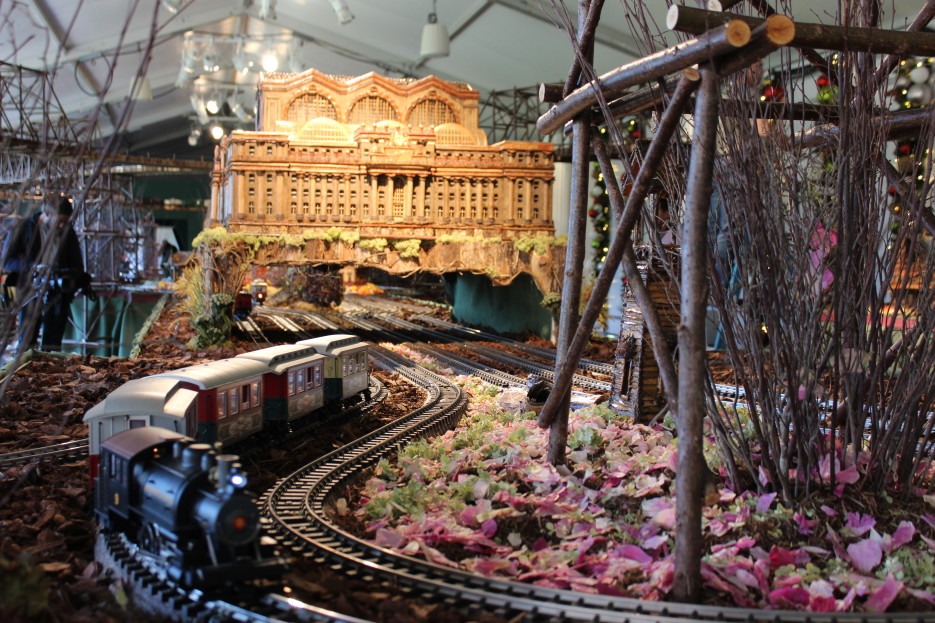 There are lots of new additions to the train show this year, including a behind-the-scenes short film to watch while waiting in line, and an additional 3,000 square feet of trains and buildings, including for the first time, trains actually going under Penn Station just like they do in real life!
Another addition is the Gingerbread Cafe located directly behind the exhibit. In here, families can warm up before or after the show with treats and delicious snacks (real New York City food trucks serving tacos and specialty cheeseburgers!), coloring areas, a free photo booth. Insider tip: If you spend $10 or more using your Master Card, you'll receive a free fresh-baked gingerbread cookie!
A winter wonderland in the garden
Don't forget that the Garden transforms their grounds each year into a winter wonderland, so if it's not too cold, enjoy walking around to see all the festive seasonal decor. The Everett Children's Adventure Garden is also open on everyday during the train show, offering a variety of hands-on activity stations such as pine cone and miniature balsam fir sachet crafts, a chance to make their own train puppets, and even a lively Holiday Train Parade. The Garden will also host their own annual tree lighting ceremony on Sunday, November 22 at 4pm.
Location: 2900 Southern Boulevard, Bronx, NY
Hours: Exhibit runs November 21 to January 18; Tuesday–Sunday, 10am–6pm
Admission: All-garden pass—Adults $28, children (ages 2–12) $16, children under 2 free; buy tickets here.
How to get there: By Metro North, take the Harlem local line to Botanical Garden Station. By subway, take the B, D, or 4 train to Bedford Park Blvd Station and walk eight blocks down Bedford Park Boulevard or take the Bx26 bus east. Parking is also available for $12 on weekdays and $15 on weekends.
Previously published on MommyNearest.com